La Vanguardia – Salud Y Vida: Interview Dr. de Weber
When and how was The Age Tech born?
The Age Tech's concept is born in 2016 when Aube Velan and I decided to create a novel approach to cosmetics, banking on efficacy rather than hype.
My idea – from a scientific point of view – was to take an advantage of every known aging mechanism that impacts the skin, through pathway activation, and epigenetic modulation.
The concept of the brand itself is very straightforward. We want a simple product line that is effective, and allows a minimum number of layers for a maximal efficacy.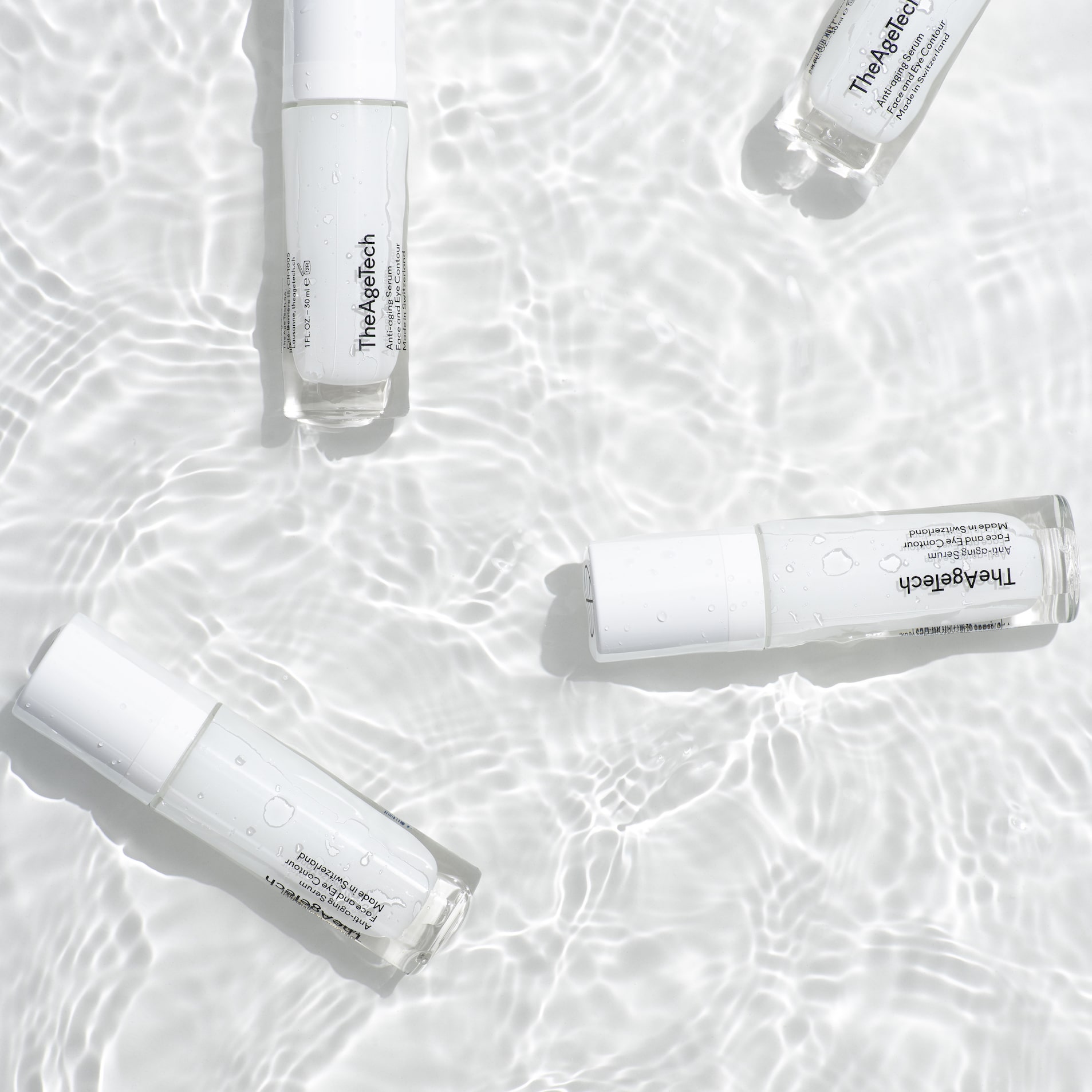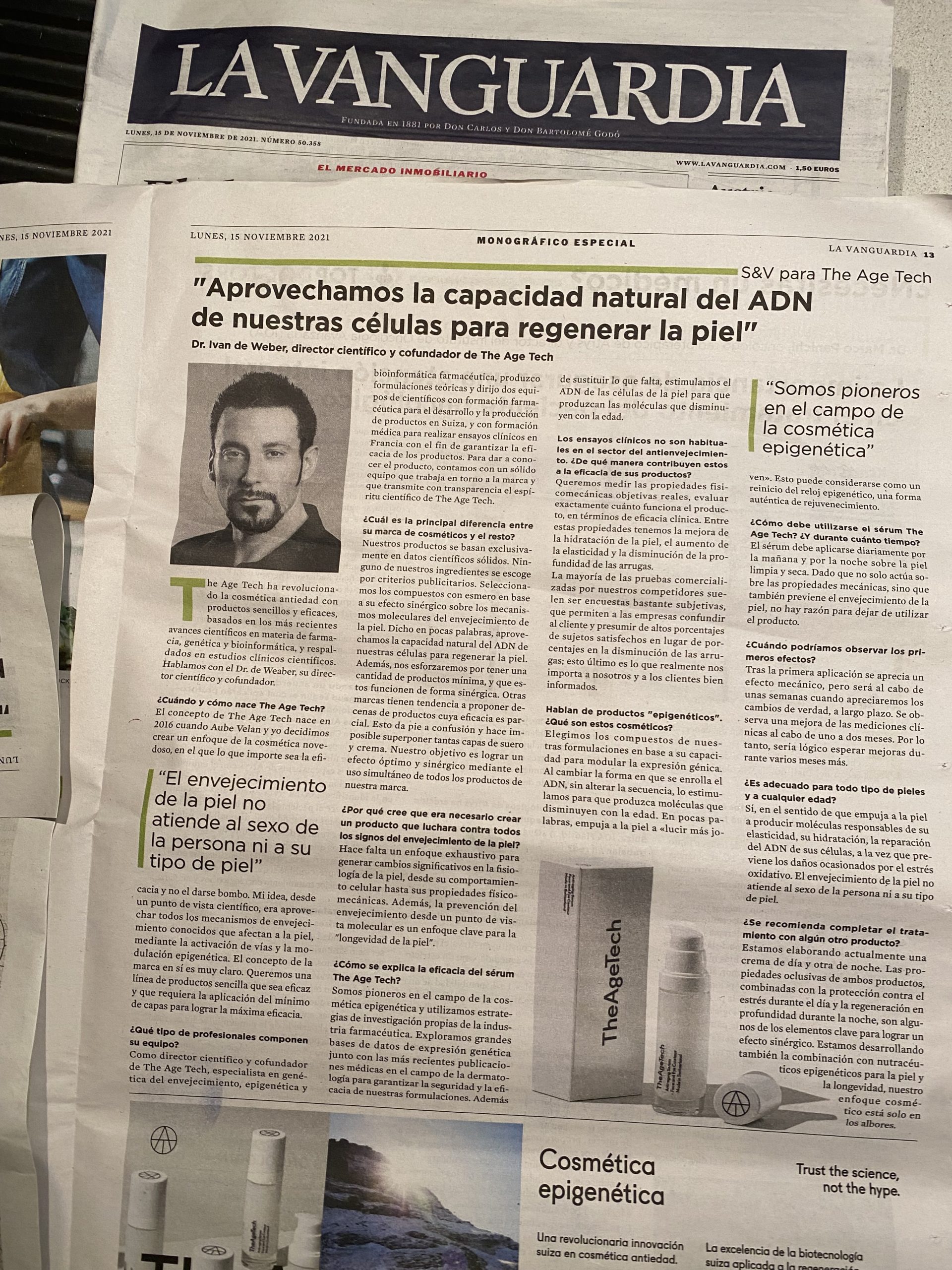 Skin aging has no gender or skin type.
Which kind of professionals are in your team?
As Scientific director and co-founder of The Age Tech, specialist in aging genetics, epigenetics and pharmaceutical bioinformatics, I produce theoretical formulations and lead two team of scientists with pharmaceutical backgrounds for development and production in Switzerland, and medical backgrounds for clinical trials in France to ensure efficacy. In order for the product to be known, we have a solid team working around branding and conveying with transparency, the scientific spirit of The Age Tech.
What's the main difference between your brand and others cosmetic companies?
Our products are based on solid science only. None of our ingredients are chosen for their hype. Compounds are carefully selected for their synergistic effect on the molecular mechanisms of skin aging.
We are basically harnessing the natural ability of cell's DNA to regenerate skin. Also, we will really strive to have a minimal number of products that work synergistically.
Other brands have the tendency to propose dozens of products with partial efficacy. This is confusing and makes it impossible to superpose a too large number of serum and cream layers.
Our objective is to make it possible to use every product of our brand simultaneously for an optimal and synergistic effect.
Why do you think it was necessary to create a product to fight against all signs of skin aging?
An exhaustive approach is necessary to generate significant changes in skin physiology, from its cellular behavior to its physico-mechanical properties.
Also, aging prevention from a molecular point of view is a key approach to "skin's longevity".
What does the effectiveness of The Age Tech serum mean?
We are pioneering in the field of epigenetic cosmetics and utilize research strategies from the pharmaceutical industry.
We explore large databases of gene expression along with the latest medical publications in dermatology to guarantee the safety and efficacy of our formulations. Beyond replacing what is missing, we stimulate skin cell's DNA to produce the molecules that decrease with age.
Clinical trials are not usual in the antiaging industry. How do they contribute to the effectiveness of your products?
We want to have real objective physicomechanical properties to be measured, that evaluate exactly how good the product works, in terms of clinical efficacy.
These properties include skin hydration and elasticity improvement, and wrinkle depth decrease.
Most tests marketed by competition are usually rather subjective surveys, they allow companies to confuse the customer and brag about high percentages of satisfied subjects instead of percentages in wrinkle decrease; the latter is what really matters to us and to well-informed customers.
We are pioneering in the field of epigenetic cosmetics
You tell about 'epigenetics' cosmetics. What that does it means?
We chose the compounds of our formulations upon their ability to modulate gene expression. By changing the way DNA is folded, without altering its sequence, we stimulate it to produce molecules that are decreasing with age. This basically pushes the skin to "behave younger". This can be seen as a reset of the epigenetic clock, a genuine form of rejuvenation.
How should The Age Tech serum be used; and for how long?
The serum needs to be applied every morning and evening on clean dry skin. Since it is not only acting on mechanical properties, but also prevents skin aging, there is no reason to stop using the product.
When could one see the first effects?
A mechanical effect is visible after the first application, but real long-term changes start to be visible in a matter of weeks. Clinical measurements have improved from one month to two months.
Hence, it would make sense to expect ameliorations for several additional months.
Is it suitable to all kind of skins and age?
Yes, in the sense that it pushes the skin to produce molecules responsible for its elasticity, its hydration, the repair of its cells' DNA, while preventing damages from oxidative stress. Skin aging has no gender or skin type.
Is it recommended to complete the treatment with any other product?
We are in the process of producing a day and night cream. Occlusive properties for both products combined to protection from stress during the day and in-depth regeneration during the night are some of the key elements towards a synergistic effect.
The combination with epigenetic nutraceuticals for skin and longevity are also in our pipeline, our cosmetic approach is only the beginning.
Most brands use ambiguous terms that imply quality or even better, efficiency. Here are a few examples to help you differentiate between promises and reality.
read more